May 17th, 2018 by The Rat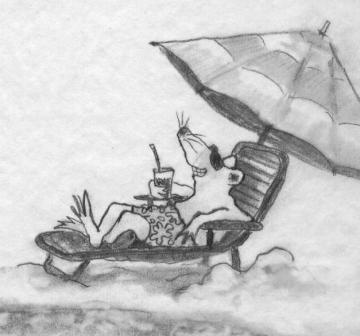 Hi to all my pals at Timber Trace Elementary in Florida!  I hope you like my trendy swim trunks and my ratly cool shades.  I'm sending this from Walt Ratsny World, where I am enjoying the warm sun, sipping cool drinks (the one in the picture is a Hamster Berry Slushie) and splashing my long ratty toes in the surf.  There was even a karaoke contest on the patio this morning; I sang my newest song ("Cruel, Cruel Felines") and I was hardly nervous at all!
As you can see, I have recovered from my rash (it wasn't the Ratbonic Plague or Scaly Tail Fever, after all, whew!) but my doctor said I could use a vacation.  I mean, I had a ratastic time blogging with all you third graders, but maybe it's time to give my sore ratty paws a break.  Jumping around on the keyboard and sending all those messages is quite a workout, and I'm ready to relaaaaaax!!
So for all you wonderful kids who have been blogging with me recently, I bid a sweet rodent farewell… how you brightened my gloomy, ratty days!  Take care, be kind to any rodents you meet, and do yourselves a favor– WATCH OUT FOR CATS!!
love, Ratty