January 24th, 2020 by The Rat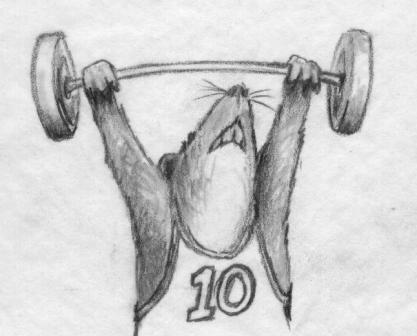 Yes, that's me, Raston A. Rat, at the gym! I'm looking pretty good, if I do say so myself!
Some of you suggested that I should exercise to get rid of the flab. And I must confess that my usual muscular, handsome physique is looking a little pudgy lately. A little more like a guinea pig than a rat, to be perfectly honest.
So here I am, pumping IRON!!! Do you like the ratty muscles in the picture? Can you tell I'm a MANLY sort of rodent? (If you can't see my muscles very well, just remember they're covered up by fur. And anyway, it's always nice to feel fit, vigorous, and healthy, even if the muscles don't show.)
But do you want to know the best thing about working out at the gym? It's this: there is nothing, absolutely nothing like a little grunting and sweating and flat-out pain to make a rodent feel absolutely fantastic– once he stops.
So… what do you do for exercise? And how great does it feel when YOU stop?